Building a family while living with HIV
Dan and Susan Hartmann are HIV discordant. He has HIV; she does not. They always have protected sex, which was never an issue, until they wanted to start a family.
The Centers for Disease Control and Prevention recommends that people like Susan, who are in a discordant relationship, take pre-exposure prophylaxis, or PrEP, to protect against personal HIV exposure. But there is little research on how the medications affect a fetus. Meanwhile, adoption can be complicated when one parent is HIV positive.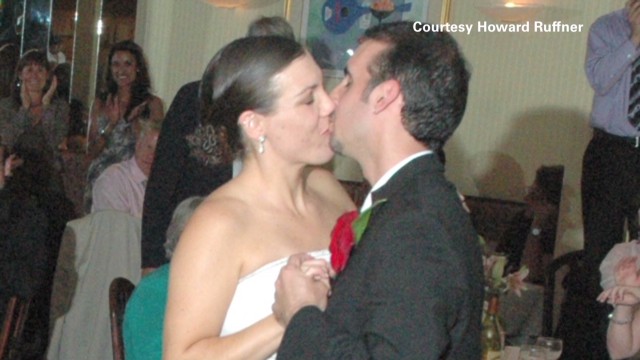 Assisted reproduction using IVF and techniques such as sperm washing (ridding the sperm of the virus before creating an embryo with an egg), are costly and illegal in some states, like California in 2007, when the Hartmanns were living there.
So what's the best way for HIV discordant couples, like the Hartmanns, to have children?
It's a question being asked more often as people with HIV are living somewhat normal lives with the disease and perhaps getting married and wanting to start a family. It is something at the top of mind on this World AIDS Day, which this year is focused on achieving an AIDS-free generation.
The CDC estimates there are 140,000 mixed-status heterosexual couples, but that number is based on a 1996 study; experts say the number is much higher today. The Hartmanns are open about their journey to parenthood because they hope others will benefit from their experience.
Read Full Story
Dan Hartmann was diagnosed with HIV when he was 12, infected by contaminated blood products he received as treatment for hemophilia, a rare genetic blood disorder.
"It was scary," Dan remembers. "There was definitely a time period … toward the end of high school, college, you know, I wasn't sure I would be here now."
It was the '80s, and AIDS was all over the news. So was the story of an HIV-positive teen named Ryan White, who was expelled from his high school in Russiaville, Indiana, after revealing he had the disease.
In Annapolis, Maryland, ninth grader Dan Hartmann was telling his school he, too, was HIV positive.
Susan Slingluff was in the gym when Hartmann and his father, a physician, spoke to the school.
"It's OK to touch him. It's OK to share your pencil with him. It's OK to drink from the water fountain. You can use the same lavatory," she remembers being told. The discussion laid the groundwork for her connection to the HIV community.
Susan and Dan went to prom together and then lost touch. Six years passed before Dan called Susan out of the blue. That phone call lasted two hours and sparked a bicoastal relationship. Eventually Dan relocated from Syracuse, New York, to San Francisco to be with Susan. They bought a house and got married.
Susan dreamed of having children. But how?
"I was 26 and it wasn't immediately needed, so I just knew that we would start asking questions and do the research and figure out what we were going to do," Susan says.
Susan read everything she could find about how a heterosexual married couple with one HIV partner could make a family but couldn't find answers. Not in research and not from their own health care providers.
"I don't think that doctors didn't want to share it, I just think they didn't have it," Susan says. "We're just not the usual clientele."
In March 2007, the couple testified at a California Senate Health Committee hearing to repeal a law banning assisted reproduction techniques using HIV-infected sperm. The law was repealed and through the process they met experts who had the answers they were seeking.
Over dinner one night, one such expert made a suggestion the Hartmanns describe as shocking: having unprotected sex.
Because Dan had an undetectable viral load and they were in a monogamous relationship, the physician explained, the risk of Susan becoming infected with HIV from unprotected sex with her husband was low. Susan says it was somewhere between a 1 in 2,000 and 1 in 4,000 chance every time.
It wouldn't mean throwing away the condoms. This was timed according to Susan's ovulation; on her most fertile days they'd try. They decided to try this approach for a few months. If either one of them changed their mind at any point they would stop.
"You check in and you're like, 'I'm feeling really nervous about this today, are you still OK with this?' And vice versa," Dan says.
Some days, he woke up reminding himself that Susan was more likely to get struck by lightning than to become infected this way. Other days, he'd wake up wondering what on earth they were doing.
After five tries in two months, Susan was pregnant. The excitement was building, but it was too early to breathe a sigh of relief. They still didn't know if Susan was infected with HIV.
At three months, Susan's test results came back negative, which tempered concerns as they shared the news of Susan's pregnancy with family and friends. Subsequent tests at six and nine months were also negative. At that point, they knew their daughter would be OK.
Now 4, Ryan is healthy and happy, just like her mom. She loves My Little Pony, swimming and even likes green vegetables. She doesn't know that her parents might be considered pioneers by some — that they've paved the way for other HIV discordant couples. She knows her dad has hemophilia and takes medicine. They'll explain the rest later, Susan and Dan say.
Susan insists it wasn't about luck; she says their decision was supported by science.
Dan agrees. "It's sort of like getting in the car. We wore our seat belts. It would have been more shocking for Susan to have gotten HIV than to have not," he says.
Susan doesn't think about HIV every day. She says it's like a third, silent partner in their marriage.
The Hartmanns may decide to expand their family, and if they do, they will see what science says at the time. They say they may decide to take the same approach. Or, Dan says, when the time comes, they may try assisted reproduction.
For now, Dan is living the life he once thought he'd never live to see.
He'll get to die of a heart attack in his 70s, Susan jokes, just like everyone else.
---
Story appeared on CNN on December 1, 2014 by Debra Goldschmidt.
---
Are We Ready for H.I.V.'s Sexual Revolution?
PRETEND it's 1960, and the Food and Drug Administration has just done something startling. It has taken a drug it had previously approved for infertility — brand name Enovid — and approved it for the opposite use: birth control.
That pill — soon simply the Pill — triggered the sexual revolution.
But not overnight. Doctors at first resisted giving it to unmarried women. Women were shy about carrying evidence that they actually planned to have sex. Pioneering feminists like Margaret Sanger and Katharine D. McCormick braved vilification to champion it.
Madison Avenue chimed in: Ads featured Andromeda, the princess of Greek mythology, nude and breaking free of her chains.
Some of the dire predictions of moralists did come true: Gonorrhea rates among women rose. Side effects like blood clots emerged. But the revolution stuck.
For gay men — not to mention millions of Africans, drug users and others at risk for contracting H.I.V. — the world is again at such a moment.
The F.D.A. has taken a drug — Truvada — that was approved for H.I.V. treatment in 2004, and approved it for prevention, a use called pre-exposure prophylaxis, or PrEP. On May 14, the Centers for Disease Control and Prevention endorsed PrEP, saying it could benefit up to 500,000 Americans.
Read Full Story
Predictably, a backlash has arisen. Some men who use it instead of condoms are called "Truvada whores." Some complain of being "slut-shamed" by their own doctors, who are reluctant to write prescriptions. Opponents said that syphilis and gonorrhea rates, already high among gay men, would worsen.
For now, Truvada has no Andromeda or Margaret Sanger. The C.D.C. recommendations were released quietly, with no news conference. And Gilead Sciences, its maker, doesn't advertise it for PrEP.
But it may yet become accepted. If it does, it will become part of a larger truth emerging in the field of AIDS medicine: Modern antiretroviral drugs are phenomenally potent weapons. They could be the key to finally shrinking the epidemic.
In relatively small prophylactic doses, like those in Truvada, they can protect the healthy from getting infected. In triple-therapy treatment doses ("cocktails" of three drugs), they can render the infected virtually noninfectious.
Evidence of how well they work keeps piling up.
The C.D.C. acted because blood samples from the famous 2010 iPrEx study showed that gay men who took Truvada seven days a week reduced their chances of infection by 99 percent. A 2011 trial, HPTN 052, of heterosexual couples in which only one was infected, showed that when the infected partners took their triple-therapy cocktails regularly, they were 96 percent less likely to infect their lovers.
And in a new and startling development, preliminary results were released in March from a European study following 767 gay and straight couples who didn't use condoms and whose blood tests confirmed that the infected partners were taking their drugs. The pairs have had sex an estimated 30,400 times since the study began two years ago, and H.I.V. was not transmitted between them even once.
Protection of 96 to 100 percent is better than even the best vaccines. But vaccines protect for life while pills must be taken daily.
Some women found that hard with the Pill, so the contraceptive market eventually developed long-lasting injections, implants, vaginal rings and "morning after" pills.
The H.I.V. field is already moving that way.
A recent survey of 200 young gay men conducted by Perry N. Halkitis, a behavioral researcher at New York University, found that if a three-month Truvada shot existed, 79 percent of them would prefer it over daily pills. Two studies in monkeys have already tested the long-lasting injectable concept, and it worked.
About 5,000 women are now testing vaginal rings that release virus-killing dapivirine into the vaginal walls. And in a recent study, monkeys who got vaginal doses of a fast-acting new drug, raltegravir, as late as three hours after sex were protected. (Admittedly, not "morning after" protection, but moving toward it.)
The new drugs permit even grander ambitions. By treating enough inhabitants, the whole "viral load" of a city can be lowered. That protects everyone — just as cities used to slow down smallpox outbreaks by rapidly vaccinating thousands of inhabitants.
In Vancouver, British Columbia, 16 years of an aggressive test-and-treat policy paid for by local government lowered new H.I.V. diagnoses by 66 percent. In San Francisco, the city's viral load has dropped even though test-and-treat was adopted by public clinics only four years ago.
Even Rwanda has seen the effect. Thanks to donors, 87 percent of Rwandans needing triple therapy are on it. New infections have dropped 60 percent.
Admittedly, these are isolated examples. There are still 50,000 new infections a year in the United States, and 2.3 million worldwide.
Widespread use of the drugs could fight that — but two imposing obstacles loom.
The first is psychological. Doctors and policy makers need to admit that 30 years of the ABC mantra — abstain, be faithful, use condoms — has failed. Men generally hate condoms, their lovers usually give in, almost no one abstains, precious few stay faithful.
Damon L. Jacobs, a family therapist and gay activist, remembered standing on a San Francisco street corner in 1992 handing out buttons saying "100%."
"It meant that, if everyone used condoms 100 percent of the time, we would end the epidemic by the year 2000," he said. "Guess what? It didn't work. People didn't want to. To a young health worker, that was an eye-opener."
(That was predictable: Unwanted pregnancies and syphilis are also prevented by condoms, which have been around for centuries. But they did not decline significantly until three mid-20th-century events: the Pill, legalized abortion and penicillin.)
The second obstacle is financial.
People must be on newer, costlier drugs — including tenofovir, Truvada's main ingredient — because they have far fewer side effects than older ones.
In the United States, Truvada can cost $13,000 a year — and insurers pay. But gay black and Hispanic men — the highest-risk groups — are the least likely to have health insurance. And there is still far too little testing. Catching infections early, when viral loads are highest, means a test every three months, the C.D.C. recommends. But its own recent survey of gay men found that a third had not been tested even once a year.
In poor countries, particularly in Africa, money is an enormous problem.
Ten million of the world's 35 million infected people are on triple therapy now; donors are already straining to edge that number up. But to end the epidemic, all 35 million would need to be on it — and probably would also need to be incentivized with small cash payments to take their pills every day.
Yet PrEP for Africa is not even being discussed yet. Also, many of the world's poor are tested only once in their lives.
"We're chasing the tail, and the lion keeps getting bigger in front of us," said Dr. Julio Montaner, a past president of the International AIDS Society. "We need to up the ante, to triple the number of people on drugs. When donors say, 'We can't afford it,' I say, 'You're fooling yourself. The faster you put people on treatment, the faster the new infection curves turn downward.' "
---
This article appeared in the New York Times, written by Donald G. McNeil, Jr. on May 23, 2014. It can be found here.
---
Treatment as Prevention also known as PrEP
 Please go to the following link to learn the basics surrounding treatment as prevention and PrEP.
Pre-exposure prophylaxis, or PrEP, is a prevention option for people who are at high risk of getting HIV. It's meant to be used consistently, as a pill taken every day, and to be used with other prevention options such as condoms. Find out if PrEP is right for you.